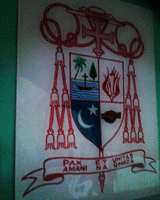 HISTORY OF THE CATHOLIC CHURCH IN ZANZIBAR
The New Era:
The Catholic Church in Zanzibar began a new era in 1990s when the Revolutionary Government of Zanzibar announced that Private Sectors and Non-Governmental Organizations could open schools, dispensaries and other social services for the people of Zanzibar. The Catholic Church grasped the opportunity and established kindergartens and dispensaries to render services to all people of Zanzibar, regardless of their faith, political ideology, tribe or nation.
On 27th April 1997, we got a new and second Resident Bishop of Zanzibar, The Most Rev. Augustine Ndeliakyama Shao, C.S.Sp., who continued the efforts of the previous Bishop, in as far as the evangelization was concerned. He came with the Diocesan Vision of Evangelization through education, health, empowerment of women, youth and children. Being a Spiritan, Bishop Shao continues the good work done by the first Holy Ghost Missionaries, and hence the establishment of Francis Maria Libermann School in 1996. The School has three units; Nursery, Primary and Secondary, open for all children of Zanzibar. The Pre-form one at Cheju Wisdom Center, is another proof of the Bishop's effort to fight against ignorance and so to liberate the children of Zanzibar. Dispensaries have been opened. We struggle to give health education to our people; to know how to fight against diseases.
The Diocese is engaged in matters concerning Inter-religious Dialogue. The intention is to create mutual understanding between Muslims and Christians, and so to build peace and harmony among the people. Due to these efforts, The Bishop of Zanzibar, Most Rev. Augustine N. Shao, C.S.Sp., has been appointed a member of the Pontifical Council of the Inter Religious Dialogue.
The question of Justice and Peace has not been left behind. The Diocese has established an Office of Human Justice and Trafficking, whereby we give education to those who have been marginalized.
NEWS BULLETIN