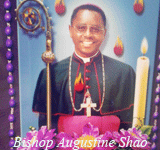 WELCOMEO OUR CATHOLIC DIOCESE OF ZANZIBAR
Every year Catholic Youth of Zanzibar(UVIKAZA) Meet for beach Mass. And today is the day for beach mass. They combine the beach breeze,white sand and the wonderfull appearance with the Glory of God. is the day of getting together and bringing God in the place as everyone would like to go beach with his/her beloved.
They had Holy Mass first celebrated by Rev Fr. Damas Mfoi(main celebrant) co-celebrants; Fr.Amosi Kibona(Youth chaplain) and Fr.Riziki Shio, all priests are from Zanzibar Catholic Diocese. Their number was about 140 those who gathered for Holy mass in the beach area UROA, the beach owned by Catholic Church of Zanzibar. It is a wonderful beach.
NEWS BULLETIN
Beach Mass 21.11.2015
-Inaguration of the Jubelee of God's mercy 06.12.2015
-Ordination day of our three deacons 13.12.2015; named
Frt. John Mchomba
Frt. Raphael Zalalila
Frt. Richard Haki